Percorso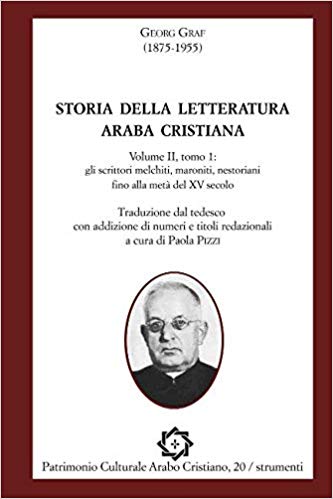 PCAC 20 / strumenti

Georg GRAF, Storia della letteratura araba cristiana. Gli scrittori melchiti, maroniti, nestoriani fino alla metà del XV secolo, traduzione dal tedesco con addizione di numeri e titoli redazionali a cura di Paola PIZZI.
(It is the italian translation of the first part of GCAL 2nd volume until page 219. No bibliographical update was made. Instrument of work for students who can read italian)
ISBN: 978-1729133682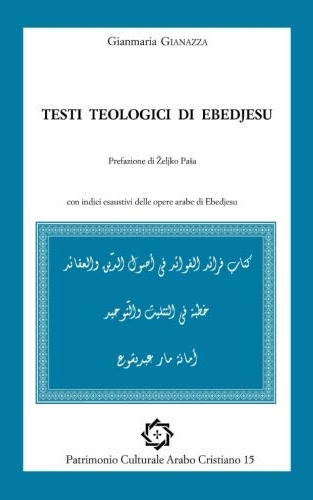 Gianmaria Gianazza, Testi teologici di Ebedjesu, prefazione di Željko Paša [edizione araba e traduzione italiana di alcune opere teologiche di ʿAbdisho bar Berīkā (Ebedjesu), Le perle delle utilità sui fondamenti della religione e gli articoli di fede (Kitāb farāʾid al-fawāʾid fī uṣūl al-dīn wa-l-ʿaqāʾid; كتاب فرائد الفوائد في أصول الدين والعقائد); Sermone sulla Trinità e l'Unità (Ḫuṭbah fī al-taṯlīṯ wa-l-tawḥīd; خطبة في التثليث والتوحيد); Professione di fede di Abdisho di Nisibi (Amānah mār ʿAbdisho; أمانة مار عبديشوع); La perla sulla verità del cristianesimo, tradotti dall'arabo e dal siriaco] (Bologna: CreateSpace 2018).
ISBN: 978-1986847872

"As some of those who believe (i.e. Muslims) and Jews have thought of Christians badly, by tying them with polytheism and disbelief in the things they believe in, [...] we felt compelled to explain in this book the number of things that they consider repugnant among the statements of Christians, bearing evidence on their need and credibility, among them their affirmation that God is one in three persons, Christ is the son of God, taking the cross as direction in their churches, convents and places of worship, and bowing before it and venerating it"
(from the introduction of The pearls of utility on the foundations of religion and articles of faith «Kitāb farāʾid al-fawāʾid fī uṣūl al-dīn wa-l-ʿaqāʾid»)

Theological vision of Abdisho bar Berika (Ebedjesu 1250ca-1318) in four of his theological writings.
By ʿAbdisho bar Berīkā (Ebedjesu) see also (Kitāb uṣūl al-dīn - كتاب أصول الدين) «I fondamenti della religione» (The foundations of religion)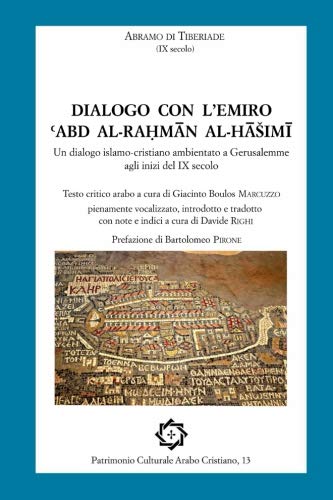 Abramo di Tiberiade, Dialogo con l'emiroʿAbd al-Raḥmān al-Hā­ši­mī. Un dialogo islamo-cristiano ambientato a Gerusalemme agli inizi del IX secolo, testo critico arabo tratto dall'edizione a cura di Giacinto Boulos Marcuzzo, pienamente vocalizzato, introdotto, tradotto, con note ed indici a cura di Davide Righi. Prefazione di Bartolomeo Pirone (Bologna: CreateSpace, 2018).
476 pages, ISBN: 978-1985205642
Arabic text and italian front page translation.
حوار مع الأمير عبد الرحمان الهاشميّ
حوار إسلامي مسيحي في القدس في بداية القرن التاسع
Famous account of an Islamic-Christian dialogue attributed to the monk Abraham of Tiberias held in the ninth century in Jerusalem.

Although with Elements that may call into Question its Historicity, the Work reflects a Dialogue that was truly held in Jerusalem in the early Decades of the ninth Century in the Presence of Muslim Authority and Muslim Sages. The dialogue was very well known during Middle Ages and was widely copied and transmitted.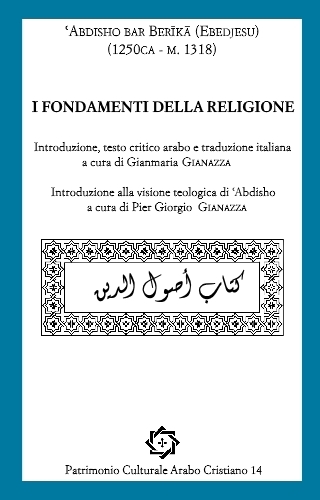 ʿAbdisho bar Berīkā (Ebedjesu), I fondamenti della religione. «Kitāb uṣūl al-dīn», Introduzione, testo critico arabo e traduzione italiana a cura di Gianmaria Gianazza, introduzione alla visione teologica di ʿAbdisho a cura di Pier Giorgio Gianazza (Bologna: CreateSpace, 2018), ISBN 978-1985252790.
The Christian religion cannot be denigrated... I will show in this book, with the help of the Lord of lords, the truth of those opinions and beliefs, and the preciousness of the foundations of the truths and useful things contained therein, so that the error of those who refute their truth, without reflection and examination, may be manifest and be true for those who believe and accept them that, if taken into account, are devoid of errors and mistakes. (from the beginning of the work)

Mirabile synthesis of the Christian faith written in prose rhymed by the metropolitan bishop of Nisibis 'Abdisho bar Berīkā (Ebedjesu) (1250ca-1318)
By ʿAbdisho bar Berīkā (Ebedjesu) see also (theological writings by Abdisho - مؤلفات دينية لعبديشوع) «Scritti teologici di Ebedjesu)
كتاب فرائد الفوائد في أصول الدّين والعقائد